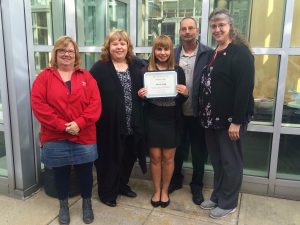 The Youngstown State University Association of Classified Employees has aw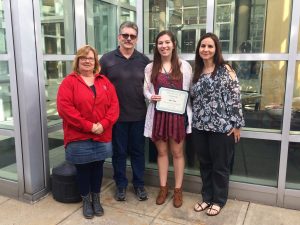 arded $750 in scholarships to four YSU Students; $300 to Amanda Cutlip of Youngstown, Ohio majoring in Accounting and $150 each to Alexis Fisher of Youngstown, Ohio majoring in Biology, Ahlam Mishmish of Boardman, Ohio majoring in Nursing and Brigitte Petras of Campbell, Ohio majoring in Geology and Art History.
All of these great students were nominated by YSU Association of Classified Employees that work at the University.
Applicants must have completed at least 30 semester hours at YSU and have documented financial need. They must submit an essay discussing the value of his/her employment at YSU, their community service, and two recommendation letters from YSU-ACE members.
An award dinner was held at Collections Cafe at the Butler Institute of American Art this past May. The students were in attendance and accompanied by their parents and surrounded by numerous members of the YSU-ACE executive committee, the selection committee, the social committee and those who recommended them.
"Students are our number one priority," said Connie Frisby, administrative assistant in the Office of Computer Science & Information Systems and YSU-ACE president. "Many former/present YSU-ACE employees have made & continue to make donations to the scholarship through the YSU Foundation. It was an honor to share this event with the recipients and their families and we hope to continue this tradition every year for a long time."
For more information on the scholarship, contact Anthony Spano at 330-941-2669 or avspano@ysu.edu. Donations to the scholarship can be sent to the ACE Scholarship Fund at the YSU Foundation.
The YSU ACE Scholarship was established in 2003 as an endowed scholarship invested through the YSU Foundation to provide financial assistance to YSU student employees.
(Top Picture: Scholarship winner, Amanda Cutlip with her mother (Karen) and Father (Leo). President, Connie Frisby (in red) and Melanie Leonard (secretary of the Union) who nominated her.
(Bottom Picture) Scholarship winner, Alexis Fisher with her mother (Marnie) and her father (Ken); along with President, Connie Frisby (in red).)
(Not Pictured: YSU Students; Ahlam Mishmish of Boardman, Ohio & Brigitte Petras of Campbell, Ohio, scholarship recipients)